It's fall and hopefully the weather is changing in your neck of the woods. In Louisiana, not so much but we are going to make it work right?! This is one of the recipes I look forward every fall, pumpkin rice pudding! I hope you try it! Leave me a comment below and let me know what you thought!

Pumpkin Rice Pudding a Recipe
One of my favorite comfort foods from my childhood is atole  de arroz or rice pudding. My mother would make it when the weather would start getting cooler. We'd have nice warm belly after eating rice pudding. Completely delicious! I have made atole a few times and unfortunately neither of the boys like it. I think it's a texture issue with them.. either way I love it, but  so it doesn't get made often. But I'm excited to share with you all.
I decided to add a little pumpkin to the recipe to really give it a "fall feel."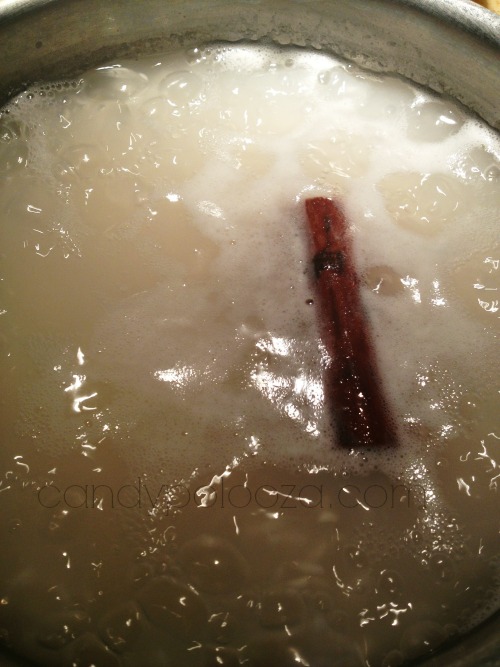 That little cinnamon stick does wonders to the flavor during the boiling process.
Pumpkin Rice Pudding a Recipe
Prep time:
Cook time:
Total time:
A delicious updated nutritious recipe of an old family favorite from Mexico.
Ingredients
1 cup of long grain rice
1.5 cups of pumpkin puree
1 cup of Almond milk original or sweetened *if you use sweetened it will be sweeter.
2 tablespoons of agave nectar
4 sticks of cinnamon
2 cups water to boil rice
Sprinkle cinnamon powder for garnish.
Instructions
Boil rice in water and throw in cinnamon sticks.
Let rice begin to swell and watch water level so rice doesn't burn.
Once rice is cooked fold in milk, pumpkin puree and agave nectar until completely combined.
Simmer for a few minutes so flavors blend.
Taste for sweetness you can add more nectar if not sweet enough for your liking.
Sprinkle cinnamon powder on top for garnish, add sticks of cinnamon to make pretty and serve.
This is definitely one of my favorite recipes from childhood. I hope that you try it out! If you want to make the original rice pudding, omit the pumpkin. It's like oatmeal but creamier.
Whats your favorite warm breakfast? 
Candy