Disclosure: This is a sponsored post. I received items for review, however all opinions are my own.
We love the Funley's brand. I learned of the Funley's brand last year and just fell in love. It's a fabulous product that has nothing but goodness in it and a little more with the veggies in each product. I'm not above not telling my kids there are veggies in things at all.. The less they know the better! Once they get hooked on it, then I tell them of the wonderful veggies in the delicious snacks! I call that a
"Parenting WIN"!  Check out the awesome flavors! and yes I'm totally a Funley's Big Mouth! LOL
I'm happy to share a fun and easy recipe with you today and October savings you can take advantage of until the end of the week. Oct 31st is the last day to save $1.00 at Ralph's grocery stores! I'll update the post on Friday with details on the $1.00 off coupon for Spouts!  If you've never tried Funley's this is your chance to do it with a coupon. I love trying new products when I have a coupon. I don't feel as guilty for splurging on a new item that way. It's a mental game right? Click here to LIKE the Funley's Facebook page and you'll be able to print off your $1.00 off coupon.
Funley's Popcorn Mix & October Savings
Easy popcorn mix using Funley's cheese crackers
Ingredients
4 cups of natural popcorn
½ cup of chocolate chips
½ cup of fruit nuggets (you can substitute fruit snacks)
2 bags of Funley's cheddar crackers
Instructions
In a large bowl mix all of the ingredients listed above.
No cooking, no baking, just throw it all together and serve.
It's scary it's so easy! Just throw it all together for a fun snack you can enjoy at a party, in your lunch or on the go. It's not gooey or sticky so that makes for a more enjoyable time eating.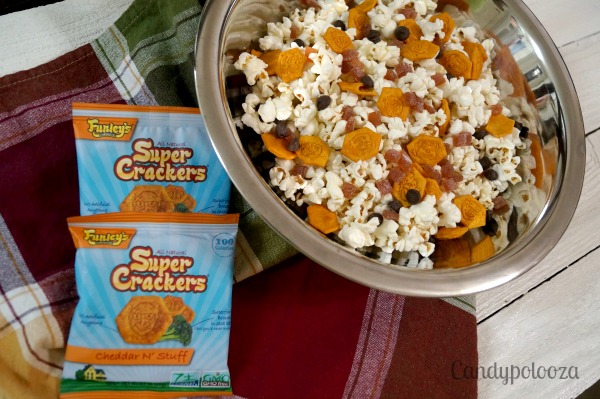 Make sure to head over to the Funley's Facebook  page for the savings! And connect with Funleys on Twitter, Pinterest, Instagram.
Question:
How do you hide veggies in your meals?
Candy