Your thoughts are not your own when you share them right? I don't mind. Sharing a few of my Thursday Thoughts with you all today.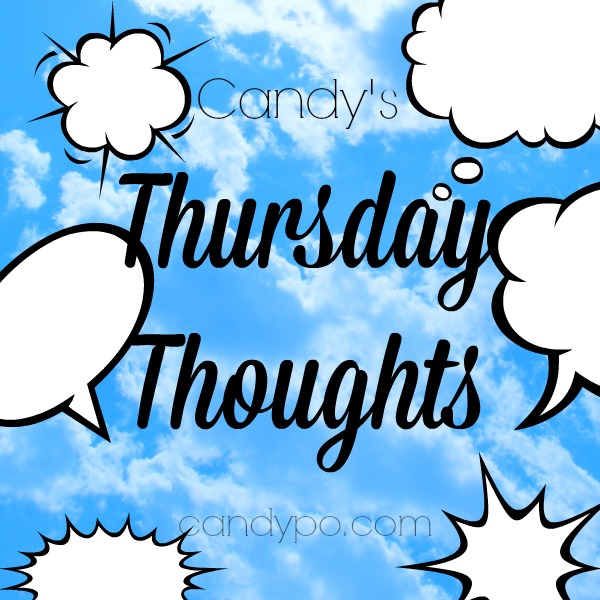 April has turned into a very busy month for me. Family keeps me busy as well as work. I am loving it! There's so much to look forward to. Hello Disneyland next week, wow I cannot even believe I'm going! I'm black and blue from all the pinching! Ha just kidding! But seriously, I am speechless at the opportunity and forever thankful. Click on the link to read my announcement post.
The boys will be home for Summer vacation and we will be doing a bit of traveling too. It's a great life I tell you. Will the travel be easy? Little E is almost potty trained so I think it's going to be a little tricky, but we are up for the challenge. I am hoping for a great summer.
So life seems to finally be settling into a routine for us. I feel more comfortable driving around town here and using my GPS less and less. I don't think it's "home" yet, but we are working on it. I've still got a lot of decorating to do in the house. I have pictures in spaces that I want put up and need to get to it and I have blank wall spaces where I need to decide what is going to fill that space. Do you have a lot of family pictures up on your walls? I have some on our mantle and another multi frame at the entrance. I need to get with it. I also think I want to purchase a small couch or love seat for our dining room area that isn't. It's just an empty space. Sorry mom! She would love to have a dining room. I need to get my decorating shiz together.
My television watching is getting back to what it used to be. The whole time the hubs was gone and then back and then moving it threw my tv game off. Weird right, but you know what I realized? All of those apps on the iPad and I've never watched a show on a tablet. Is that weird? Am I spoiled? I love my television. I only watch tv on my television. Maybe I'm old school? LOL
I'm nuts right? Ok, don't answer that.
What are you looking forward to this summer?
Candy