A great read for young readers! Yes, that's my tag review of The Mortification of Fovea Munson, by Mary Winn Heider. Thanks to Disney Book Group for sending me a copy to check out and is partnering with me for a giveaway! My young adventureous reader was excited for this book and dug right on it! The cat was even excited to hear about Fovea. Make sure to keep reading for a chance to win below!
One of the things that we look for in books for our boys is different genres. It's important for them to try different genres of literature so they won't just get stuck reading one type of book. Not to say that reading the same genre is bad, but we want to make sure that they try different types of books. I remember that when Aramis first started loving reading, he was reading the comic book type stories that had a lot of pictures and to see him grow from a lot of pictures, to some, to none has been incredible. What he's been enjoying about The Mortification of Fovea Munson is the humor. I like to think we all have great senses of humor, because I'm funny and so is the hubs. The humor is perfect for his age and he has learned some interesting information about anatomy. We highly recommend this book!
In Stores Now! The book was released June 5, 2018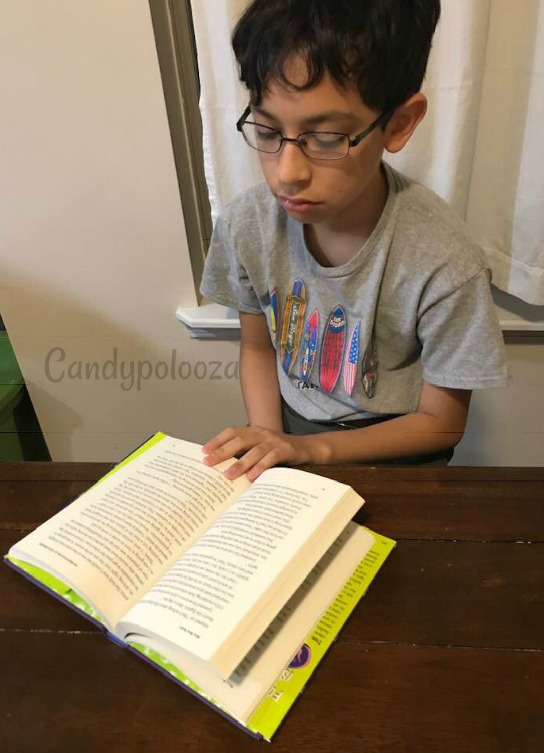 ABOUT THE BOOK
Fovea Munson is nobody's Igor.
 True, her parents own a cadaver lab where they perform surgeries on dead bodies. And yes, that makes her gross by association, at least according to everyone in seventh grade. And sure, Fovea's stuck working at the lab now that her summer camp plans have fallen through. But she is by no means Dr. Frankenstein's snuffling assistant! That is, until three disembodied heads, left to thaw in the wet lab, start talking. To her. Out loud. What seems like a nightmare, or bizarre hallucination, is not. Fovea is somebody's Igor, all right. Three somebodies, actually. And they need a favor.
With a madcap sense of humor and a lot of heart (not to mention other body parts), this is a story about finding oneself, finding one's friends, and embracing the moment.
Recommended for ages 8 -12. Published by Disney-Hyperion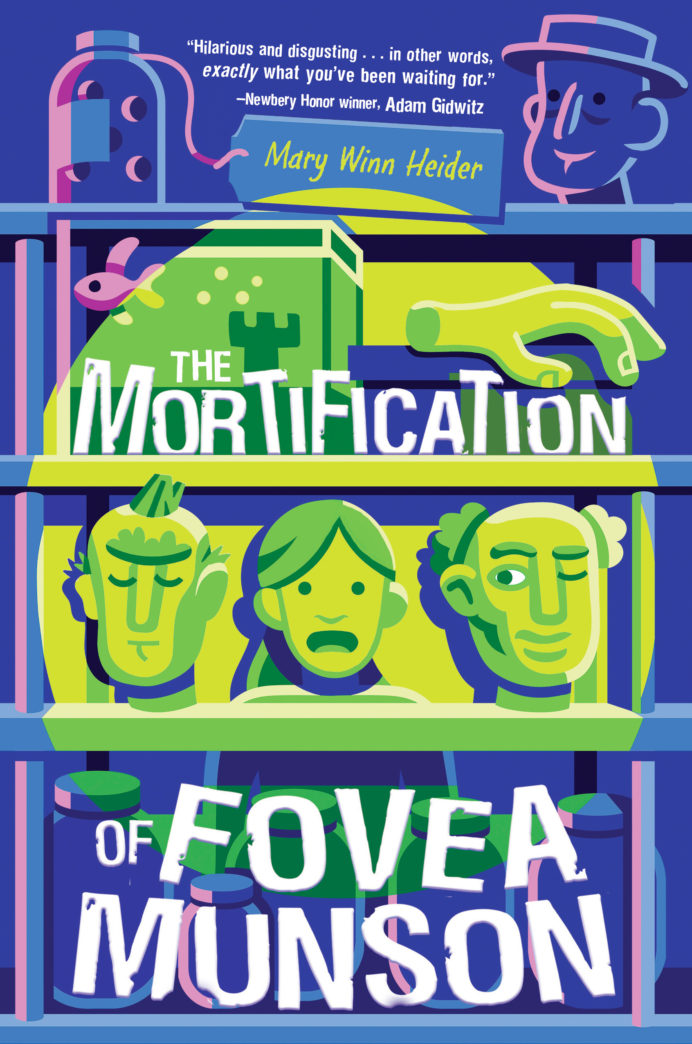 *NOW FOR THE GIVEAWAY*
A prize pack so good, it's scary! One (1) winner receives:
The Mortification of Fovea Munson by Mary Winn Heider
and three other Halloween reads from Disney Books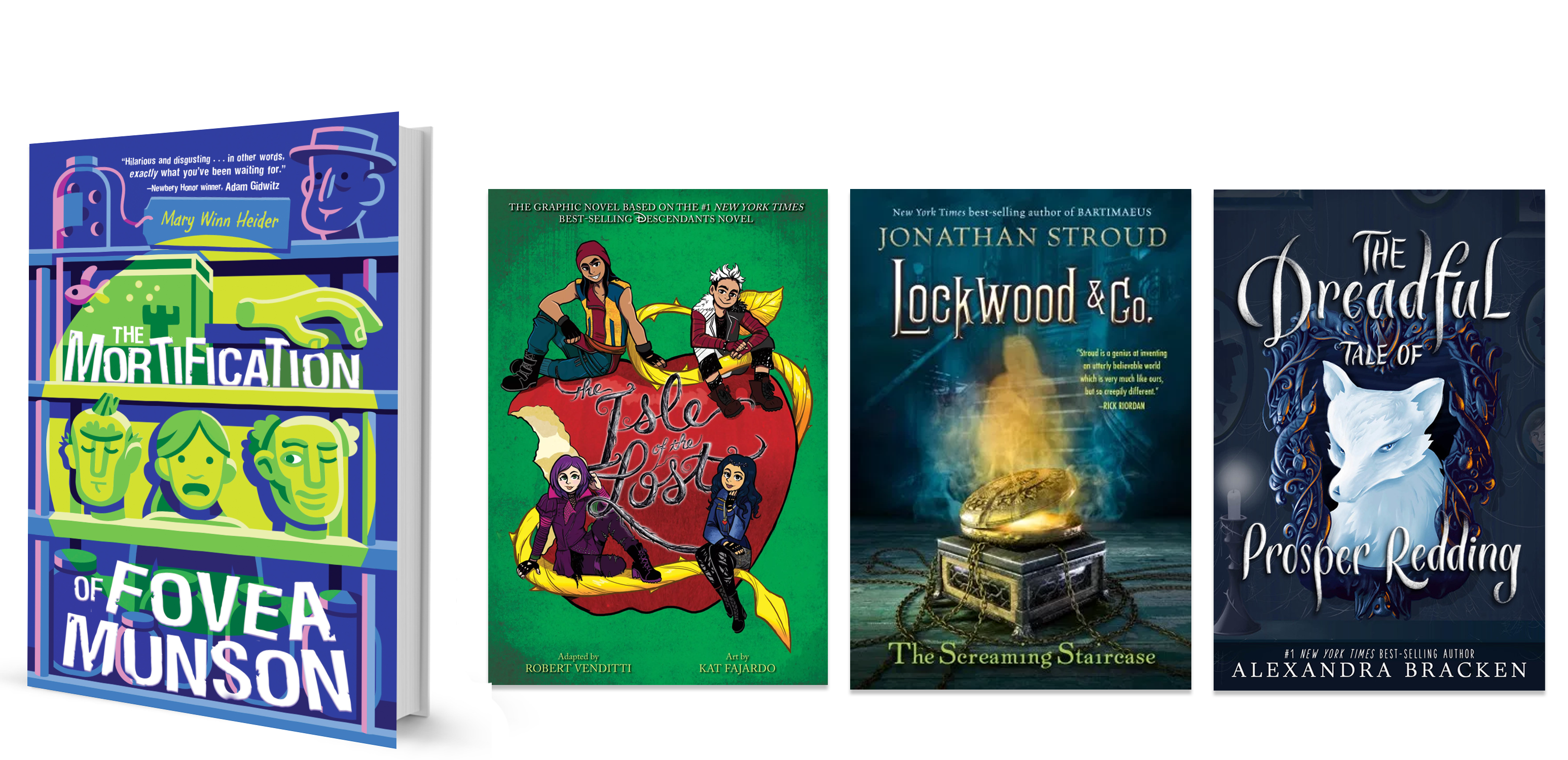 GIVEAWAY INFORMATION:
Giveaway starts: Monday, October 1st 11:59 pm ET
Giveaway ends: Sunday, October 14th 11:59 pm ET
Giveaway open to: US residents 18+ void where prohibited. No purchase necessary.
HERE'S HOW TO ENTER:
Leave a comment below telling me the first chapter book you remember reading OR
Leave a comment telling me in a *full sentence* if you like scary books.  (One or two work answers will be deleted)
Leave a comment on another blog post then come back to this post and tell me which article you commented on
Retweet the following tweet and leave the tweet link in the comments
Follow @DisneyHyperion on Twitter. Please let me know so down below and leave your Twitter handle as proof.
Enter to win The Mortification of Fovea Munson AND a spooky set of books thanks to @DisneyHyperion #MortificationOfFoveaMunson Click here –> https://t.co/qbFiyvfvLP AD #giveaway pic.twitter.com/x9na9QTTNb

— Candy Po (@Candypo) October 2, 2018
Good Luck Everyone! 
Candy