Disclosure:  This shop has been compensated by Collective Bias, Inc. and its advertiser. All opinions are mine alone. #WeekNightHero #CollectiveBias
When you think of Campbell's you think soups. Hearty, warm and delicious soups that leave you with a feeling of satisfaction and goodness. I love that feeling! When cooking I like to leave my family with those feelings. Cooking with Campbell's Soup products I know I'll achieve that feeling. A few years ago my sister introduced us to turkey burgers and we have them at least once a week. Is that too often? I think not! I knew exactly what I'd make using the Campbell's Soups for Easy Cooking! I wanted to change up the norm and give our burgers a different taste. Normally I like to marinate the burger patties or while I'm making the patties add veggies to the patties.  I'm excited to share my Campbell's Soups Sweet Onion Quick Turkey burgers recipe with you today! You're going to be a #WeekNightHero! #CollectiveBias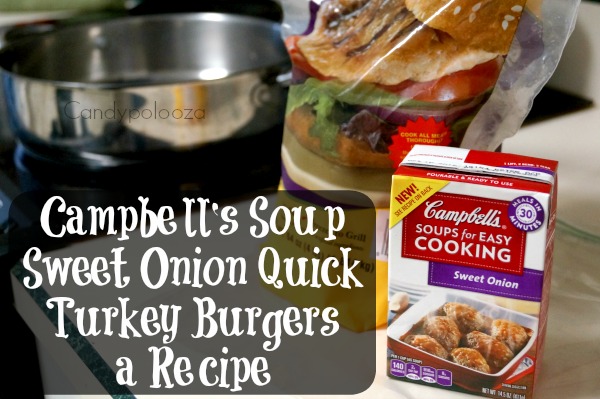 When you think of burgers on the grill, you think of a beautiful afternoon outside and if only you could recreate those moments during the week right? A little bit of weekend bliss during a busy week. Enjoying our Campbell's Soups Sweet Onion Quick Turkey burgers was just that for us. This recipe will get you in and out of the kitchen in less than 30 minutes so you can sort of take one evening off early and just relax with the family after a delicious dinner! And it's easy clean-up! One pan and you're done baby! and maybe a cutting board for your veggies. 😉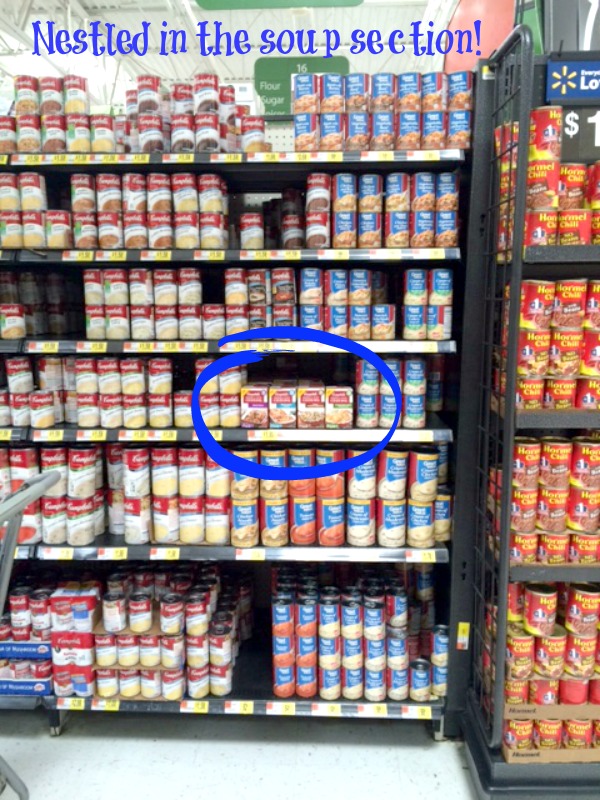 Let's get started! Oh before I forget! When you are getting ready to get all your ingredients ready for our delicious turkey burgers, print the $0.75 off  coupon at Walmart.com! Hurry it's only valid thru 4/13/2015! Easy meal with a discount! Can't get any better than that?! Actually when you bite into the burger, you'll be even more satisfied. You can find the the great variety of the Campbell's Soups for Easy Cooking at Walmart!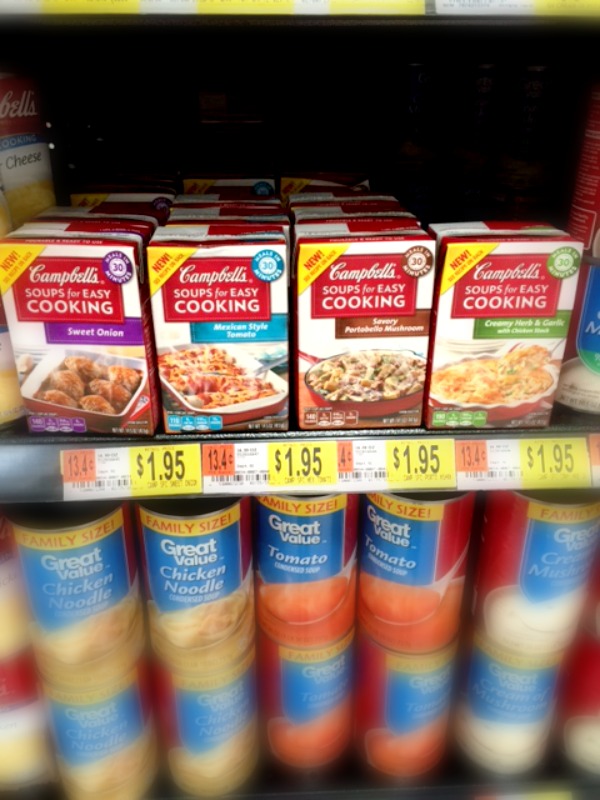 Here's a little on the Campbell's Soups for Easy Cooking Sweet Onion flavor I used.
When a recipe calls for Condensed French Onion Soup>> now try the savory addition of Sweet Onion flavor in your recipe. (this a savory addition to any meatloaf and skillet dishes.)
Now what you've been waiting for!
 To save time the hubs gave me a great idea. During the week the faster the better right? Let's make this recipe a la "Semi-Homemade with Sandra Lee" and use frozen turkey burger patties. Do this the night before so the Campbell's Soup Sweet Onion soup can really work its way into the patties.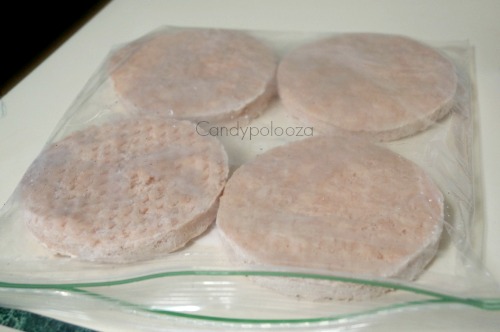 After you pour in the soup into the bag of patties, make sure to spread it out.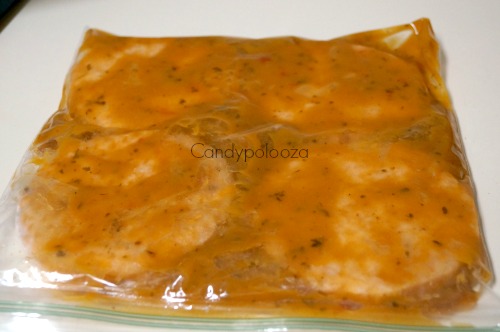 Let that marinate overnight or a couple hours.
When you are ready to cook spray a light coat of oil in the hot pan then add your patties.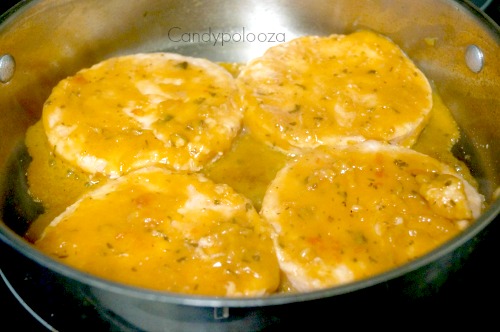 Cook each patty 6 minutes on each side. But before you pull out of pan, make sure each patty reaches 165° F, on the inside with a meat thermometer. You don't want to feed your family uncooked burgers.*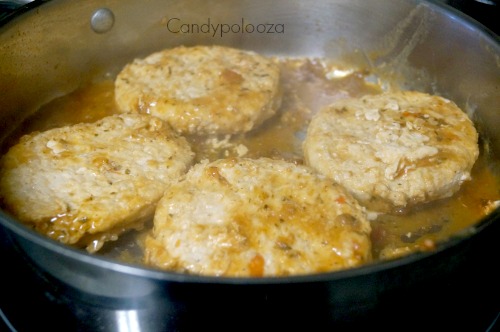 Now it's time to build your burger! I decided to go with cibiatta rolls. I think it's nice to change up the bun situation with the burgers. Makes them fancy I think.  I also used some delicious basil pesto on the bread instead of regular condiments. To cut back on more dishes pick up a package of pre-cut and washed lettuce or spring mix to add to your burger. I decided on colby jack cheese this time too.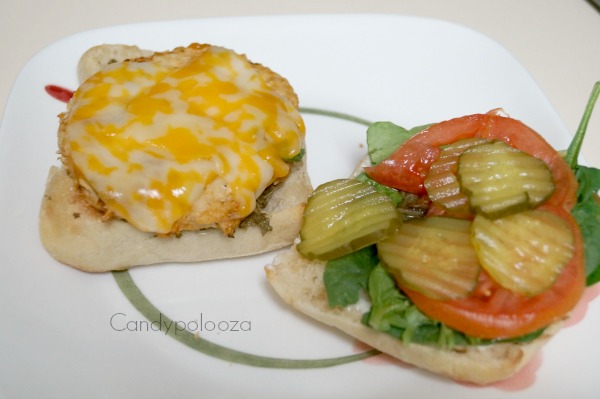 And I added my favorite pickles! I love this recipe! I hope you do too!! Campbell's Soups is seriously helping you make real homemade meals in 30 minutes or less.
Follow Campbell's on Social Media! 
So Tell Me:
Check out the rest of the delicious, easy homemade recipes using Campbell's Soups for Easy Cooking at http://cbi.as/4pdn! I'd love to hear your favorite!
Happy Cooking!
Candy