M. Night Shyamalan is one of my favorites writer and director. He's an amazing storyteller and his movies keep you on the edge of your seat the whole time. SPLIT is absolutely no different. Super excited to parter with Universal to bring you (or actually five of you) the chance to win SPLIT!
Ok who saw SPLIT in the theaters?! If you didn't, don't worry I'm not going to spoil it for you. All I can say is the same M. Night Shyamalan magic happens in SPLIT!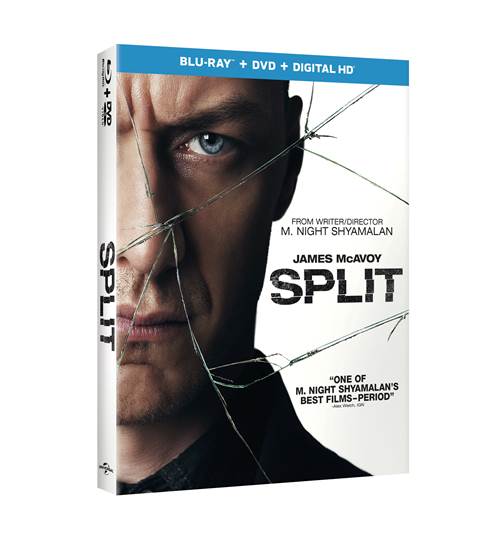 SYNOPSIS
Writer/director/producer M. Night Shyamalan returns with an original thriller that delves into the mysterious recesses of one man's fractured, gifted mind. Though Kevin (James McAvoy) has evidenced 23 personalities to his trusted psychiatrist, Dr. Fletcher (Betty Buckley), there remains one still submerged who is set to materialize and dominate all the others. Compelled to abduct three teenage girls led by the willful, observant Casey (Anya Taylor-Joy, The Witch), Kevin reaches a war for survival among all of those contained within him – as well as everyone around him – as the walls between his compartments shatter apart.
BONUS FEATURES ON BLU-RAYTM AND DVD
Alternate Ending
Deleted Scenes
The Making of Split- Filmmakers, cast, and crew discuss what attracted them to the project and how they were able to bring such a unique premise to life.
The Many Faces of James McAvoy- A look at how James McAvoy approached the challenge of playing so many different identities.
The Filmmaker's Eye: M. Night Shyamalan- Director and writer M. Night Shyamalan has a singular, big-picture vision of his projects. Producers, cast, and crew discuss how Night's process gives them the freedom to execute their roles to the fullest.
The Blu-ray™ Combo Pack includes a Blu-ray™, DVD and Digital HD with UltraViolet™.
Blu-ray™ unleashes the power of your HDTV and is the best way to watch movies at home, featuring 6X the picture resolution of DVD, exclusive extras and theater-quality surround sound.
DVD offers the flexibility and convenience of playing movies in more places, both at home and away.
Digital HD with UltraViolet™ lets you watch movies anywhere, on any device. Users can instantly stream or download movies to watch on iPad®, iPhone®, Android™, smart TVs, connected Blu-ray™ players, game consoles and more.
Official SPLIT movie website
Trailer: http://uni.pictures/SplitTrailer
Facebook, Twitter, Instagram
Here's how you can win 1 of 5 SPLIT movies:
GOOD LUCK EVERYONE!!!
Cheers!
Candy