Disclosure: Thanks to Visit Tallahassee for hosting Candypolooza for a fun filled media trip. All opinions stated are our very own.
When you're visiting a new town it's easy to hit the touristy areas and go with what the blogs or travel sites recommend. I'm totally guilty of this as well. It's not until we live somewhere that I'm able to share the local interesting places that we find when living somewhere. Thanks to our sponsor Visit Tallahasse we were able to visit some true gems in town during our visit. I'm sharing the local eats and cool treats to enjoy in Tallahassee, you won't want to miss when you visit!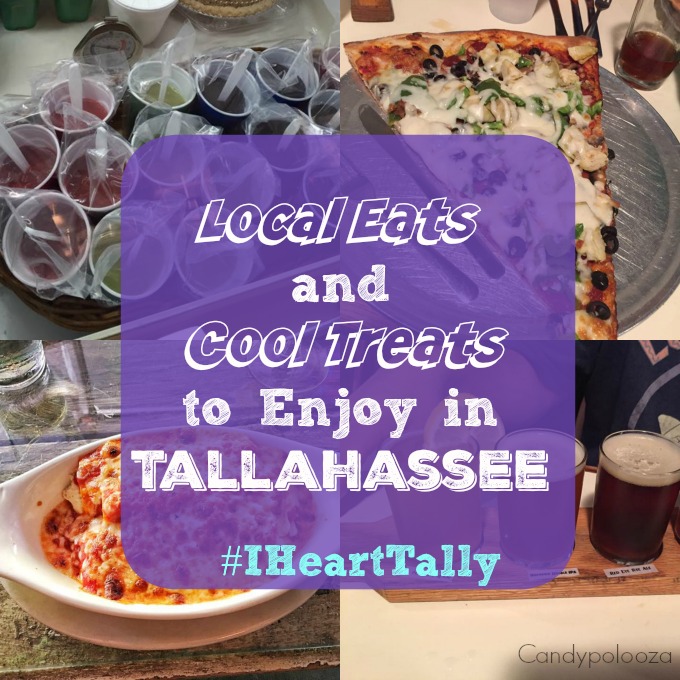 Our first stop arriving to Tallahassee was a local spot. If  you know me, you know I love a good hot dog! Lucky for me the boys also love hot dogs! The chili dogs were great and the homemade potato chips were fantastic! Go enjoy a quick lunch at Dog et Al. Go Like Dog Et Al on Facebook  These truly are "World class dogs!" and visit them for a great lunch at 1456 S Monroe St, Tallahassee, FL 32301.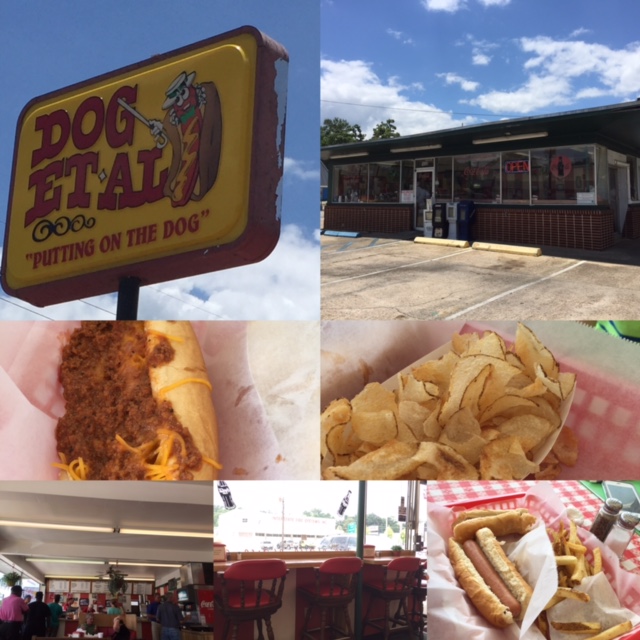 We were so impressed with the sweet selections at Lofty Pursuits. We don't normally head out for ice cream on vacation so we would have missed out on this location. You'll experience a step back into the time of soda fountains and handmade cool sweets when you visit Lofty Pursuit. And the awesome bonus is that it's a toy store too! Follow Lofty Pursuits on Facebook, Instagram and Twitter.
A variety of homemade brittles is what you'll find at Barb's Gourmet Brittles, along with cookies, ice cream and other treats. I got a chance to speak with Ms. Barb herself and learned so much about the edible art she creates. A former fashion designer not only are the items she makes delicious they are beautiful as well. When she developed her recipes she had everyone in mind. Her mother suffers from Diabetes so she knew she didn't want the brittles to be so sweet that her mother couldn't enjoy. And you know I had to do a taste test! I have to say that they are not too sweet and not sweet enough, they are just right! As you walk thru her shop you'll enjoy the sweet aroma of all of the cookies and when you head towards the front entrance you'll smell the sweetness of her ice cream! Yes, Barb also makes ice cream! The Thursday night crowd was steady that evening and everyone was heading toward her ice cream counter. As you can see in the pictures before it looks so delicious!
 I purchased more cookies and brittles to bring home and enjoyed them so much! Make sure to like Barb's Facebook page so you can keep up with all of her amazing creations! Oh and you can totally purchase brittle from Barb's webpage.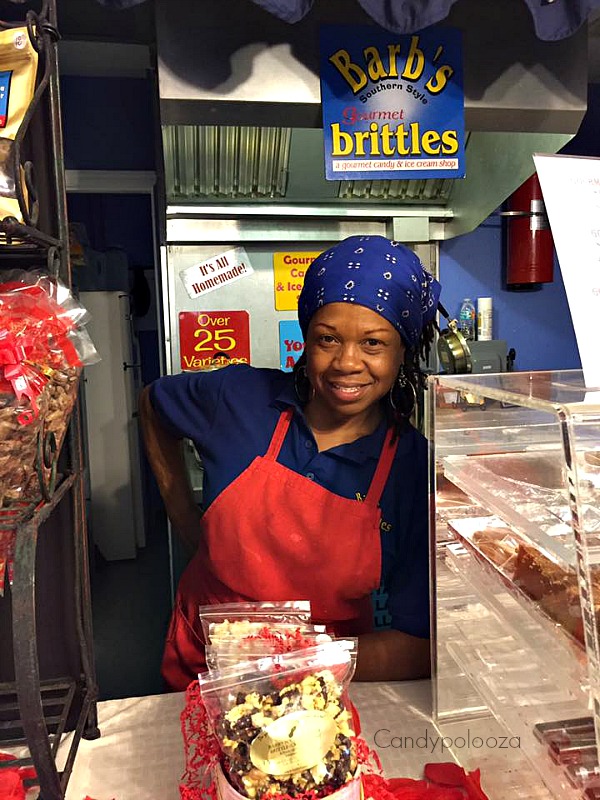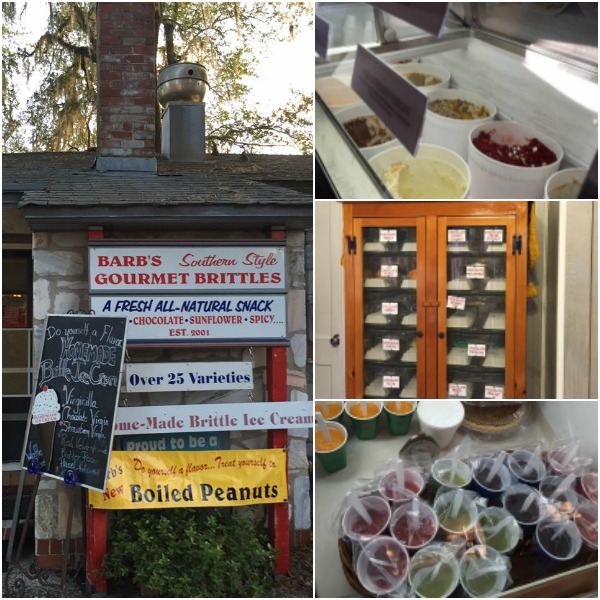 We visited Big Easy Snowballs during our time at the Thursday night Food Truck rally at Lake Ella. It was such a hot afternoon the Big Easy was the first place we visited after picking our picnic spots for the evening. There was a huge list of snowballs to choose from. You could mix and match and add ice cream too! My only warning is check the cup size before you order! It's no small snowball! 😉 Follow Big Easy Snowballs on Facebook, Twitter and Instagram!
We had a great dinner at Bella Bella, it's a local Italian restaurant. Unfortunately I didn't have my phone handy (what kind of blogger am I right!? I'm gonna blame the kids..) but thanks to my pal Victoria from ABC Creative Learning she saved the day and shared her dinner with us! Aramis had Fettucine and I had a chicken dish. I'm sad I didn't get pics but you can see how delicious the dishes looked! Definitely a great local place to try! Like them on Facebook, on Twitter and Instagram to see all of their beautiful dishes!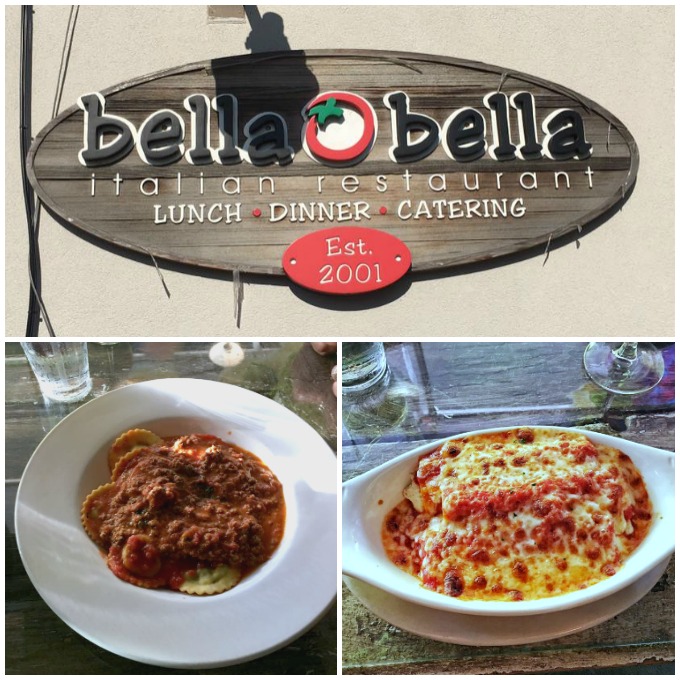 Our final meal together with the group was at Momo's Pizza. It was such a great restaurant. The craft beer was delicious and the pizza.. Oh my goodness the pizza was outta control. In an amazing way! We each got a slice and as you can see the slice is as big as your head! Thats actually their slogan! And it's as delicious as it is huge! I wasn't able to finish my slice and I'm still sad about it. It was so delicious! Don't miss going by Momo's Pizza if you are in Tallahassee! In the meantime make sure to follow them on social Instagram & Facebook to make your mouth water and make you plan your trip to Tallahassee sooner than you think!

As you can tell we saw some amazing places while visiting Tallahassee and we ate some phenomenal food too! Make sure to check out my post on the Tallahassee museum to see the cool thing you can do there before you plan your trip. I've got a couple more posts to share with you! Keep an eye on my Instagram account to see images of our trip!
Question:
Where would you want to eat first when visiting Tallahassee?!
Cheers!
Candy