Hey everyone! It's Monday- Mamavation Monday!
Eating wise, at home the eating was good. My water intake has been very bad. I am seriously considering wearing my camelback when I'm at home so I can just sip water all day long w/out having to hold the glass. Makes me think of those beer helmets from Spencer's gifts! You know which one I'm talking about.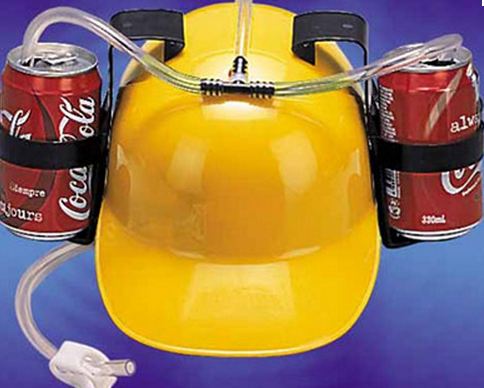 (Yeah this one! )
 So this week my main focus is my water consumption.
Along with water I've decided that enough is enough I'm going to start running this week. I hope to do 5 miles for the week. I am starting slow b/c I've not run since the Mamavation 5k back in June. Yeah it's been a while.. or maybe I have run since then and I can't recall. It's late and I'm super tired.
Speaking of being super tired, I know that has played a lot on my weight. I've got to get more rest. 1am will be the latest I stay up all week. If I can help it I plan to be in bed by 11 if not 10. I've been going to workout at the Y and I am sure that's another reason why I'm so tired, but stuff keeps coming up and I don't get to sleep- yada yada yada- you know how that happens.
I'm on Daily Mile as Candy O.  if you are also on there look me up. I'm not into posting it on Facebook but will most likely look to add it to the blog- I'll really feel like I need to get miles down that way.
I hate to sound like a baby- but I really need to make some friends here. I would love to find someone that enjoys walking or running so I can have a "buddy" for walking. I love working out with a  group.
Well I guess I am burning sleep time- so I'll cut it short. Off to go fill up my night water cup 🙂
Hope everyone has a wonderful week!
Questions:
How much water do you drink in one day? What are your workout goals for the week? Have you checked out www.Mamavation.com??
This post is sponsored by Lilly's Sweets and hosted by Mamavation – a community dedicated to obesity prevention & weight loss for women and I'm writing this to be entered into a giveaway