You know, I don't even know if I can tell you what my favorite moments at D23Expo were. Why? Well because it was completely surreal to even be there and looking back a couple weeks later I still can't. Thanks to Disney I was invited to be a part of a trip of a lifetime to attend Disney D23Expo. But you know what I'll do my best. If you are a Disney fan, add this experience to your bucketlist. It's a must see, a must do, a must experience that will bring back memories from childhood and fill your Disney loving heart. Let's start with the first panel we attended, The Disney Legends.
Disney Legends
Right out of the gate, the event started out incredible. I think it's done purposefully to prep you for the weekend of amazing announcements and celebrity sigthings.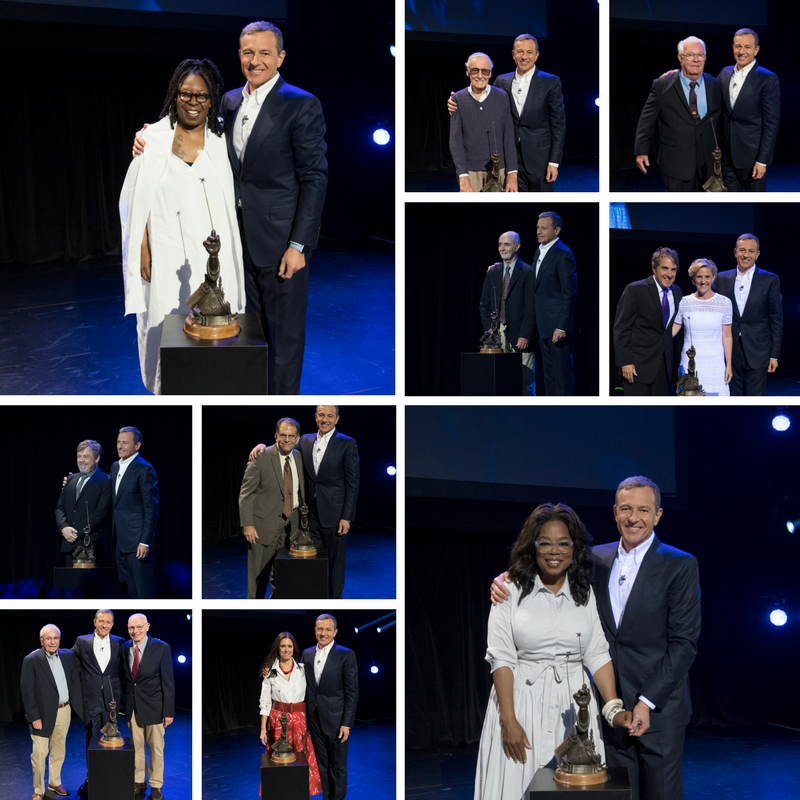 Carrie Fisher (Film), Clyde "Gerry" Geronimi (Animation), Whoopi Goldberg (Film & Television), Manuel Gonzales (Publishing), Mark Hamill (Film), Wayne Jackson (Imagineering), Jack Kirby (Publishing), Stan Lee (Film & Publishing), Garry Marshall (Film & Television), Julie Taymor (Theatrical) and Oprah Winfrey (Film & Television), remarkable contributors to the Disney legacy were honored as official Disney Legends during D23 Expo 2017. Hosted by Disney Chairman and CEO Bob Iger, the Disney Legends Award ceremony was held on Friday, July 14, in Hall D23 of the Anaheim Convention Center. This year marks the 30th anniversary of the Disney Legends Awards. The first Disney Legend was Fred MacMurray (The Shaggy Dog, The Absent-Minded Professor, The Happiest Millionaire), who was honored in 1987.
As you know I'm a huge Oprah Winfrey fan. It was incredible to be in the same room as her and to see her receive the award as a Disney Legend. She's all that, you guys! Seeing Stan Lee and hearing his accepantance speech only a week after the death of his wife of 69 years was truly touching. He's sharp as a tack you guys and truly extraordinary. The dedication to Carrie Fisher was fantastic as expected and the letter from her daugther was very touching. And for Scott Hamill to continue the dedication during his acceptance was epic. If you are a Star Wars fan, I'm sure you can attest to just the Imperial march song starting and all of those feelings just come out. It was electric.
So I'm sure you are wondering when it was that I started crying right? Maybe.. ok I'm going to tell you anyways. 😉 When the Disney Legends award was given to Clyde "Gerry" Geronimi for Animation. This man gave life to many of the Walt Disney animated shorts of my childhood. These were the shorts that helped me fall in love with the brand and most recently my kids as well. Any time I can find Disney shorts, I get them so the kids can watch them as I did in the mornings. It was such a treat to listen to his two grown sons accept the award in his honor.
I love celebrities just as must as the next person but in my eyes it's the animators and the people that work in the background that bring Disney to life that mean a ton to me. Like Jack Kirby in publishing our comic books would be a little different had it not been for Jack Kirby. Stan Lee was touched by the honor for Kirby as well.  What are Disneyland and Walt Disney World without the visions of Imagineer Wayne Jackson. Tomorrowland, Tokyo Disney attractions were created by Jackson. It's mind blowing how many people bring the magic alive. I'm glad I was able to see this ceremony. It was truly amazing.
Cosplay
This was my first event of this kind and I'm hooked. I loved seeing people that love Disney as much as I do and their costumes were AMAZING! Here's a video I put together of all of my favorite people dressed as their favorites!
 Pretty cool right?! Some folks went above and beyond! It was truly incredible and next time God willing I'll partake as well!
 The Music
Alan Menken is truly a musical genius. It was very cool to see him perform LIVE and I was lucky to grab a good seat in the media section. I teared up a couple of times but since I was sitting in between two strangers I couldn't let go.. if you know what I mean. LOL I made another video to give you a glimpse of the amazing set he did for us. I was able to include a little bit of his personal anecdotes he added. That was a really special part of the program, getting to hear his memories of his start, his family and his friend and collaborator Howard Ashman.
What a great panel right?!! I get goosebumps listening. I was there!!
The Panels
Yes, the panels of course were outta control as well.  We weren't allowed to take videos or pictures so there's no video just recaps here. Make sure to check those out! Here's the Animated panel, here's the link to the Live Action panel and of course here's all the Disney Parks news you can handle!
D23 Membership
Do you know about the D23 Membership? I learned about it from a press release I received and quickly signed up for it. There's a free membership but I think the gold membership is for me! During our time at D23 we had the chance to ask Vice President of D23, Michael Vargo a few questions. Did you know that as a D23 member you get exclusive invites to events?! Yes! Turns out there were events held across the states for Beauty and The Beast. It was such a highly anticipated film that they did special screenings for members! Very VIP if you ask me! You can learn more about the D23 membership by clicking on the image below.

Walt Disney Archives 
One of the exhibits at D23 was the huge "Pirates Life for Me" exhibit. We got an exclusive tour before the exhibit floor opened by Rebecca Cline. Rebecca has been an archivist for Disney for over 20 years. How cool is that?! The archives included in this exhibit were as small in detail to as huge as the piano from one of the Pirates' movies. Of course I can't remember which one.. but just look at it! Incredible to see it in person. As well as some of the early sketches and cartoons from Disney. I loved walking thru the space and it was really special to see it with our small group. The wait on the line for this exhibit was always very long and while the space can fit a lot of people, to really enjoy it this was perfect.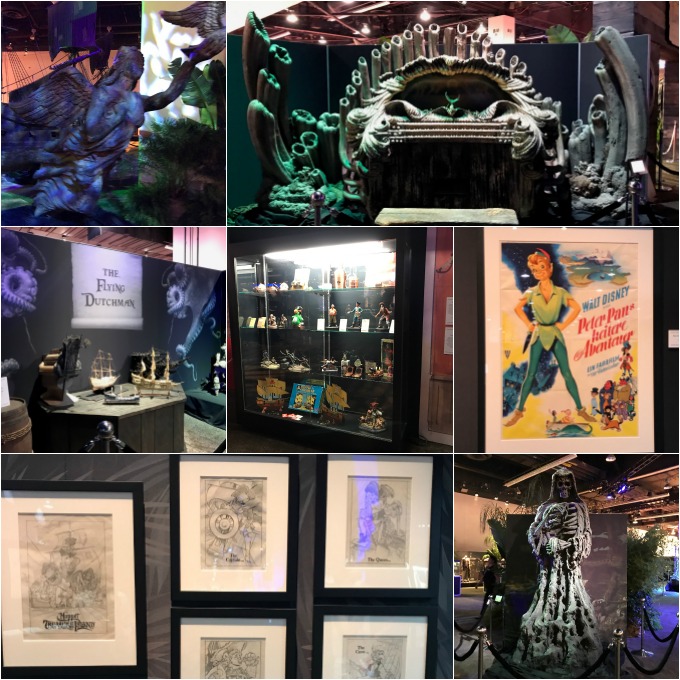 What an amazing experience right?! I'm still in disbelief that I was even there. I'm stoked that I've had the opportunity to share it all with you as well! But this isn't it! I've got more! Stay tuned as I'll be sharing the Summer of Heroes from Disneyland and my experience of riding the new Guardians of the Galaxy ride at Disneyland!
Question:
What would you enjoy most at D23 Expo?
Cheers,
Candy
SaveSave
SaveSave
SaveSave
SaveSave
SaveSave