The Banks children you remember from the original Mary Poppins have grown up, Michael has three children and Jane is a doting aunt. It was fantastic speaking with the actors Ben Whishaw and Emily Mortimer during the Mary Poppins Returns Event. Thanks to Disney for this amazing event invitation, all opinions expressed are my very own. We shared some great laughs with both during the intervew. They were an absolute pleasure to speak with.
Working with Rob Marshall
I'm super excited to share our interview with Director Rob Marshall with you next week. I was truly impressed with the passion and attention he beamed as he spoke to us about Mary Poppins Returns. Here's what Ben and Emily shared with us on working with Mr. Marshall. We could see how truly special he made both Ben and Emily feel as he gave them direction during film:
"When Rob likes you, he really, really, really, really likes you.  He doesn't hold back. You feel his love. You feel his excitement about what you might bring to the table. Some directors don't have that quantity. I really value that." 
Being Michael and Jane 
As you can imagine, coming in as adults to children portrayed in such a loved film was exciting for both Ben Whishaw and Emily Mortimer. We asked how they were able to come together and build such a great relationship.
Ben  shared, "We were really lucky. We just immediately got on, and enjoyed each other's company, and giggled about things, and gossiped. Emily added: "Waiting to go on for rehearsals, and there were weeks and weeks of rehearsals. And then acting together. And then sitting around on the set for months, months, months together.
You'll agree once you see it onscreen- the sibling chemistry is fantastic.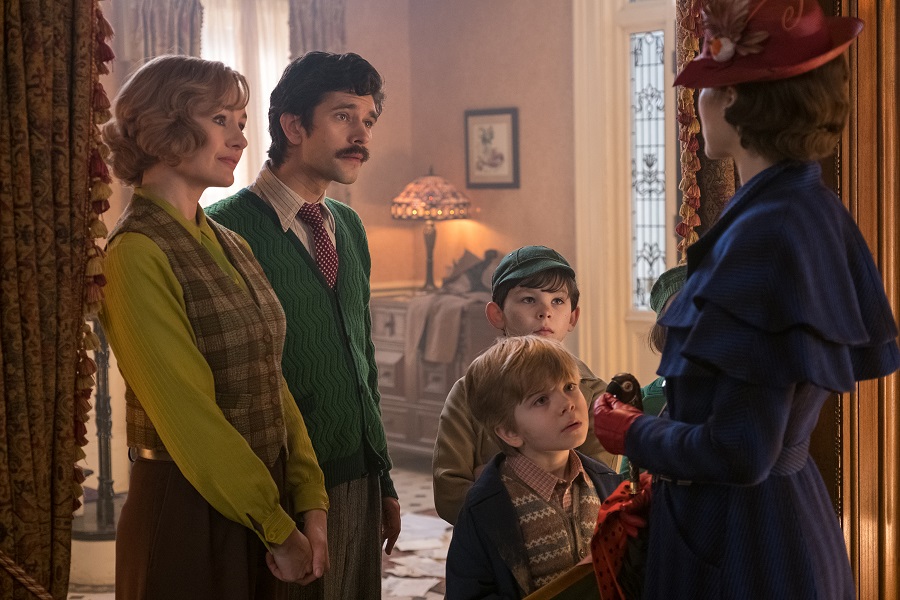 Photo Credit: Disney
The Music and Dancing
You'll see Ben and Emily in a couple of the musical numbers, as well as Ben's solo. Emily shares how she felt during the musical filming, "You can't catch your breath almost," says Emily. "Just when you think you've had enough, just when you've gorged yourself, then along comes Dick Van Dyke, and then there's that dance. And just, more, more, more, more. It's amazing."
Make sure to read my full review on Mary Poppins Returns, my time on the red carpet, our interview with Emily Blunt and Lin-Manuel Miranda! And keep an eye out for all of the award nominations Mary Poppins Returns has already been nominated for! We'll be rooting for all of our Disney favorites come January when awards season begins! So exciting!!
Follow along on Social Media: Twitter | Instagram |YouTube #MaryPoppinsReturns