Yes, it truly is! Mary Poppins Returns is a new classic for all ages. As I sit here writing this film review I'm listening to the soundtrack and it's bringing the film back to me. We had the opportunity to see the film two times during the #MaryPoppinsReturnsEvent, thanks to Disney for the invitation to be a part of this special event, all opinions are my very own. If you recall I talked about Mary Poppins Returns last year after returning from D23 and I have to tell you, it was what I expected and more. I give Mary Poppins Returns a solid two thumbs up. I can't wait to hear what you think!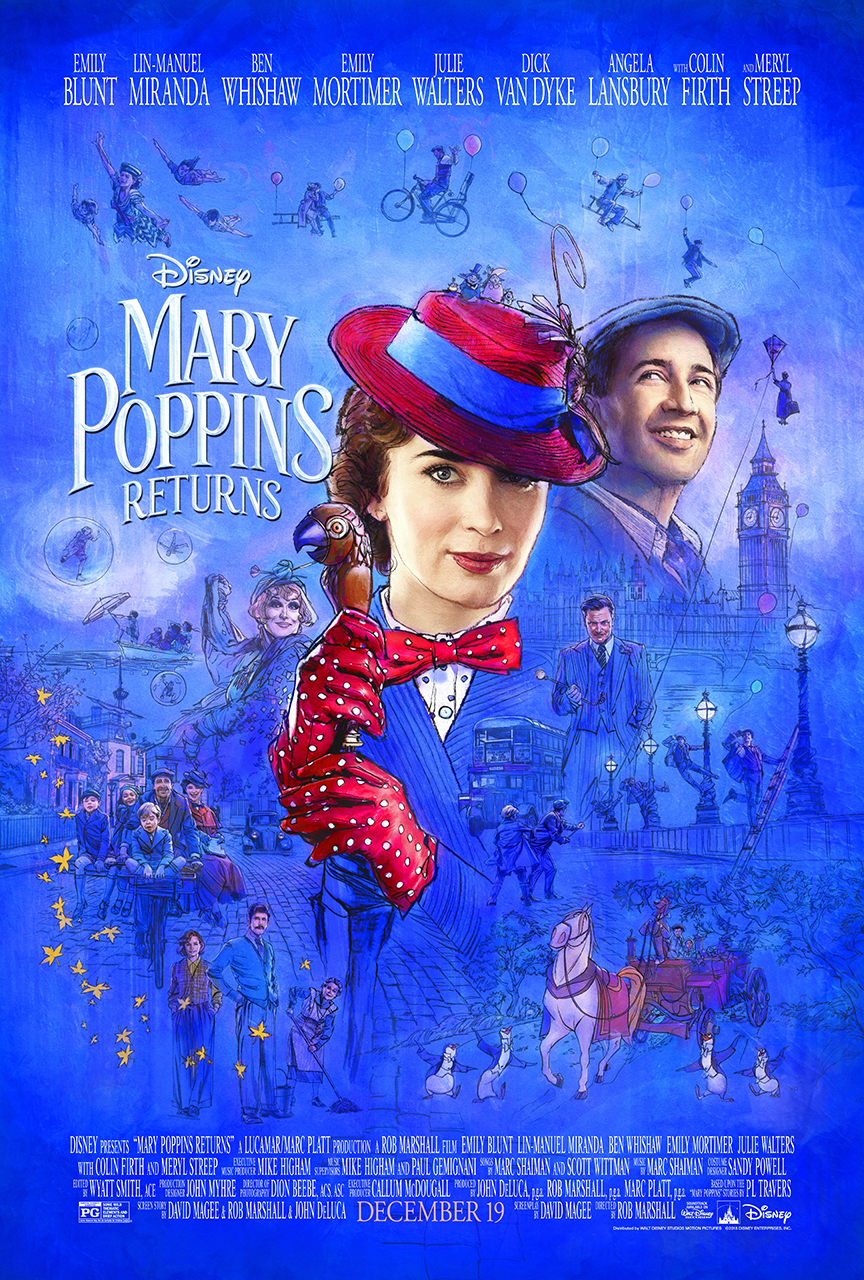 The Magic of Mary Poppins
You can't have Mary Poppins without magic and there is plenty of magic and wonder in Mary Poppins Returns. The return to Cherry Tree Lane is everything you could expect and more. When you watch the first time, yes I say first time because you'll definitely want to watch it again because you are going to love it even more! Enjoy it and take in the magic of it. Don't waste time looking for Easter eggs, just let yourself become a part of the adventure. You'll see some things that remind you of the orginal Mary Poppins and they will really warm your heart. I found myself saying, "Oh my gosh I didn't think I'd see this or that" while I watched the first time. You'll connect with the film like you didn't think you could. That my friends is magic.
All-Star Cast
Yes, in fact it is an all-star cast in Mary Poppins Returns. I'll leave a few for you to see in the film so that I don't spoil it entirely! You know about Emily Blunt, Lin-Manuel Miranda, Colin Firth and legends Dick Van Dyke and Meryl Streep are in the film. The star power is heavy in this film and they all get their star moments in the film. Rob Marshall did an incredible job with each of the actors, the parts were very well cast.
The Music
I'll touch briefly on the music as I'll be sharing our interview with Marc Shaiman and Scott Wittman next week. It's fantastic! Shaiman and Wittman did an excellent job of keeping it familiar without using any of the same songs. The orchestral sounds are rich and full of life. If you haven't had a chance to listen to the soundtrack, it's available now on Amazon prime. Ask Alexa to play it for you. As you can expect Emily Blunt and Lin-Manuel Miranda sing during the film and also sing together, they truly made magic together.  I love the songs! I can hear some similarities, but it keeps with the nostalgia of the Mary Poppins we all grew up watching as children. Once Ezra watches the film, I'm sure I'll be hearing him hum some of the songs with me.
Great for All Ages
If your children enjoy Disney animated films, they will enjoy Mary Poppins Returns. There's lots of attention grabbing scenes and beautiful scenary that will keep my little's attention. You may have a few scenes where it gets a little slow for the littles, but the classic Mary Poppins adventures will really grab them. There is animation in the film so that will keep their attention as well as a exciting scene where the Bank's children are looking for the youngest Banks, Georgie. Nothing that will scare them, just more of an action scene that will be lively. I will most definitely be taking my 7 year old to see Mary Poppins Returns.
Mary Poppins Returns in theaters everywhere December 19th
Make sure to read about my time on the red carpet, our interview with Emily Blunt and Lin-Manuel Miranda! And keep an eye out for all of the award nominations Mary Poppins Returns has already been nominated for! We'll be rooting for all of our Disney favorites come January when awards season begins! So exciting!!
Follow along on Social Media: Twitter | Instagram |YouTube #MaryPoppinsReturns