In the ten trips I've done with Disney, I've never met anyone quite like him. The love and care he put into the film was very evident in his words about the actors and the film. Speaking with director Rob Marshall of Mary Poppins Returns, was really a treat. Via his words with us, I have to say that the entire group was mesmirized by his gentleness and love. Thanks to Disney for inviting me on such amazing press event, all opinions stated are my own. Rob Marshall is a charming human and his cast truly spoke marvels of being under his direction. Even speaking with him briefly at the after-party was fantastic, truly an interview I'll never forget.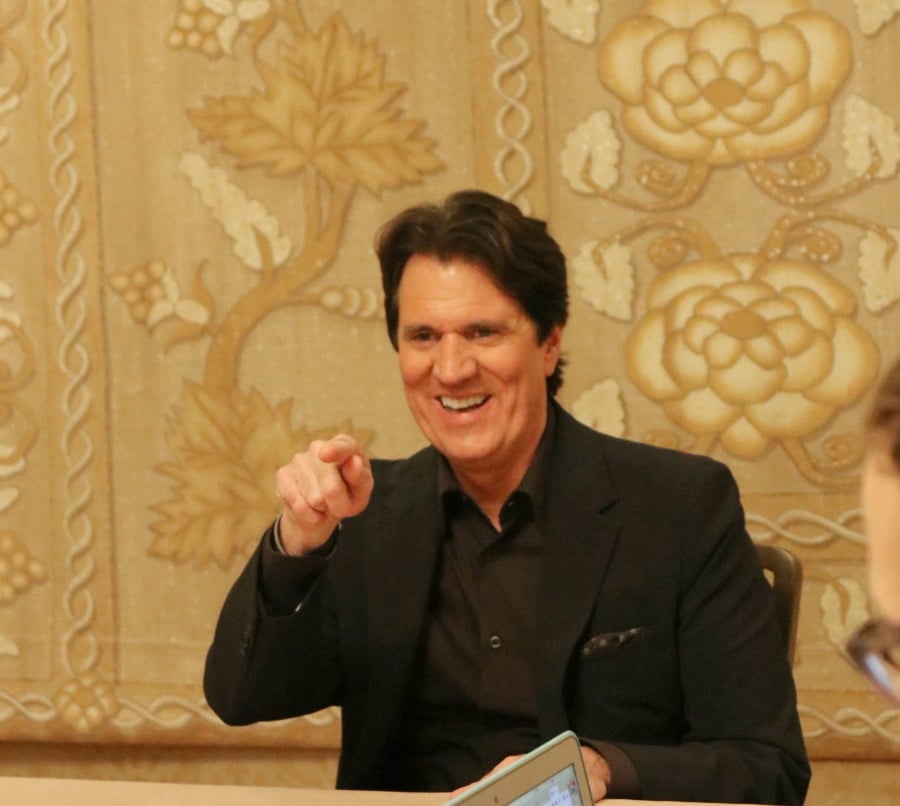 Photo Credit: Jana Seitzer / WhiskyNSunshine.com
Directing The Cast of Mary Poppins Returns
"It's sort of interesting when I work with actors I really find they need to feel positive reinforcement and it's such a simple thing to do.  It's like being a really good parent, and I try and achieve that when we're working. For instance, as an example Ben Whishaw, who plays Michael Banks, he's never sung before.  He was sort of nervous about how do you do that, and I always feel that people can do so much. It's just feeling that they can and knowing that they can. I like to protect them in rehearsals when– you know we had over two months of rehearsal.  So it was during that time that you can fail and be bad and then learn to get better and, and not feel judged.  That's a really important thing."
"I like to protect Actors to make them feel they can do things and try things. And everybody was so nervous on this film because you we were  following that extraordinary film that means so much to me and so much to so many people.  I'm sure everybody in this room.  So we knew we were doing the impossible, but I honestly felt like if we did it together from the right place with a great respect for the first film and found our own way at the same time then we would at least have done it in the right way.  Then you hope that it works."
The Amazing Dick Van Dyke
We can only imagine that when Mary Poppins Returns became a reality that this was the cameo that had to happen. As you might have seen in some of the stills and trailer, Mr. Van Dyke gets up on a desk and is dancing. You'll never believe what Marshall told us about that one scene:
"I said to Lin and Emily, "If he falls off that desk you're dead. You are spotting him. So if he starts to wobble, I want you to jump in.'  Of course, he was perfectly fine.  In fact, he doesn't even use Lin's hand. When you see Lin is literally standing there like okay and he doesn't use him, he just goes right up."
Easter Eggs in Mary Poppins Returns
As with any Disney live action or animated film, there are little Easter eggs that can be a tell from other films, so we had to ask. Here's what he shared with us:
"Well, here's the thing, I visited the Disney archives.   They didn't really have the archives in the 60's, not much, there's some. What there is I saw so you remember the blocks from Mary Poppins? We replicated the blocks. They didn't give us the blocks, but we replicated the blocks. They're in the attic if you look. Also the snow globe.  We replicated that as well. So the only real thing is that table in the front hall, which I saw at Club 33 at Disneyland and I said, "That's in the movie if the let us have it" and they did. So that was really moving to me.   The kite, of course, we replicated that and created our own version of the kite.  Those very specific things from the first film that I really wanted to hold onto if I could.  That's for the people who love the first film who know it. It's those first little Easter eggs.  I use myself as honestly as a barometer the whole time. What would I wanna' see?"
The countdown is on friends!! Who's heading to the theaters on Wednesday night?! 
Make sure to read about my time on the red carpet, our interview with Emily Blunt and Lin-Manuel Miranda! And keep an eye out for all of the award nominations Mary Poppins Returns has already been nominated for! We'll be rooting for all of our Disney favorites come January when awards season begins! So exciting!!
Follow along on Social Media: Twitter | Instagram |YouTube #MaryPoppinsReturns