The classic adventures of Tom and Jerry mixed with the sweetness of Willy Wonka & the Chocolate Factory! and I've got a great giveaway where three of you will win a copy of your very own! I can tell you already if you are a fan of the original Willy Wonka and the Chocolate Factory, you'll love the animated version featuring your favorite cat and mouse. I absolutely loved how visually appealing the movie is! You can purchase Tom and Jerry: Willy Wonka & the Chocolate Factory movie at your favorite retailer on July 11th!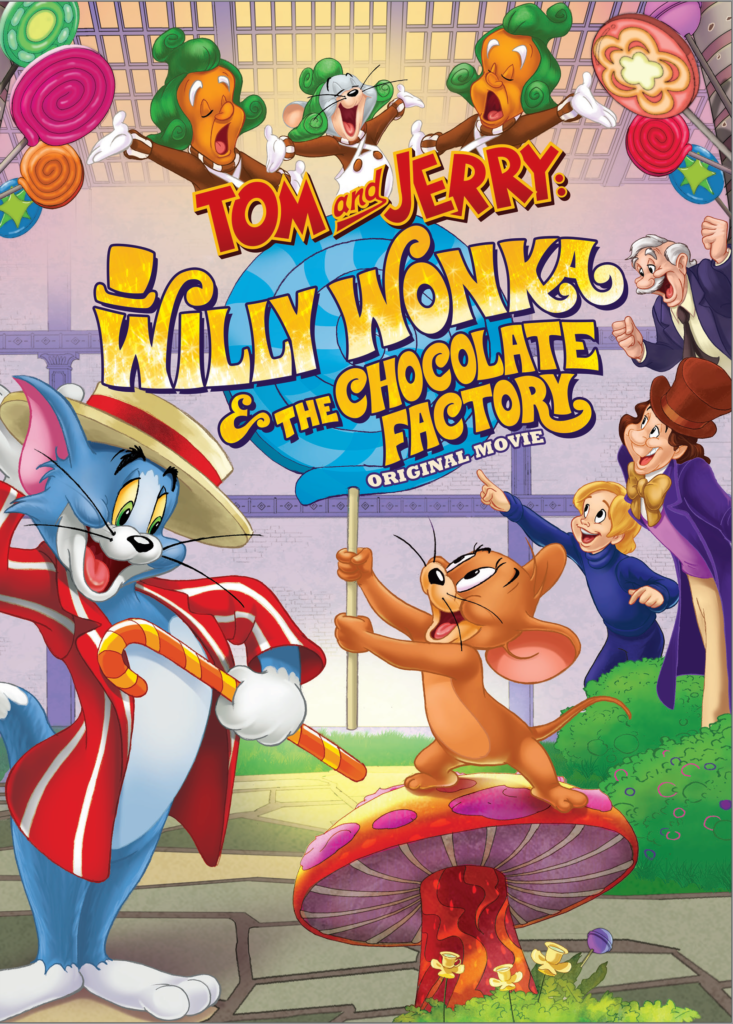 Here's more information on this new movie!
The world-famous chocolatier, Willy Wonka, meets the rambunctious cat and mouse duo, Tom and Jerry, in Warner Bros. Home Entertainment's (WBHE) release of Tom and Jerry: Willy Wonka and the Chocolate Factory, the brand-new animated family film available on DVD July 11, 2017. Based on the beloved children's book, Charlie and the Chocolate Factory, by Roald Dahl, and the iconic musical family film Willy Wonka & the Chocolate Factory, this fun, new adaptation adds Tom and Jerry's entertaining antics to the classic story of young Charlie Bucket's unforgettable visit to Willy Wonka's marvelous chocolate factory. Viewers will enjoy many familiar beloved songs, in this heartwarming and hilarious new film.  Tom and Jerry: Willy Wonka and the Chocolate Factory will retail for $19.98 SRP. Tom and Jerry: Willy Wonka and the Chocolate Factory will also be available to own on Digital HD via purchase from digital retailers on June 27, 2017.

In this entertaining new film, Tom and Jerry meet Charlie Bucket, a young boy who finds one of five golden tickets, hidden inside the wrappers of Wonka chocolate bars. The lucky few who find a golden ticket are invited to visit Willy Wonka's world famous chocolate factory and win a lifetime supply of chocolate.

As Charlie sets out to meet Willy Wonka, Tom and Jerry secretly accompany him. Along the way, they help him steer clear of the evil Arthur Slugworth, who tries to talk Charlie into bringing him Willy Wonka's latest creation, the Everlasting Gobstopper. They also meet Augustus Gloop, Veruca Salt, Violet Beauregarde and Mike Teevee, the four other kids who also find golden tickets and are invited to tour the chocolate factory with Charlie.

Favorite Tom and Jerry cartoon characters, including Tuffy, Spike and Droopy also join in the fun. A fresh take on the classic story, Tom and Jerry: Willy Wonka and the Chocolate Factory is an action-packed family film filled with laugh-out-loud moments and fur-flying exploits that only our favorite cat and mouse duo can deliver!

The film was executive produced by Sam Register (Teen Titans Go!), written by Gene Grillo (Tom and Jerry & The Wizard of Oz) and produced and directed by Spike Brandt (Tom and Jerry & The Wizard of Oz).

"Tom and Jerry: Willy Wonka and the Chocolate Factory is a great way to introduce young children to this classic story. By bringing Tom and Jerry into the plot, children who know the two cartoon characters but not the original book or movie, will now get acquainted with this famous story," said Mary Ellen Thomas, Vice President, Family & Animation Marketing. She added, "Whether they are fans of Tom and Jerry or Willy Wonka's story, we think viewers will find this new film thoroughly entertaining. It's the perfect movie to share with the entire family."

Originally created by William Hanna and Joseph Barbera, Tom and Jerry emerged during Hollywood's golden age of animation and became one of the most popular cartoon series in existence. The shorts focus on the never-ending rivalry between Tom the cat and Jerry the mouse. The plots of each short usually center on Tom's attempts to capture Jerry. Jerry, however, is clever and quick on his feet so Tom hardly ever manages to catch him.
SaveSave
SaveSave
*NOW FOR A CHANCE TO WIN YOUR VERY OWN! THREE LUCKY WINNERS WILL RECEIVE ONE DVD*
Enter below and share with your friends!
GOOD LUCK EVERYONE! 
Candy
SaveSave
25% Off Sitewide! Full Priced Items Only. Starts 7/11 @ Midnight EST Ends 7/11 @ 11:59PM EST.