"You've got a friend in me," is all I have to hear to get that knot in my throat that swells into big crocodile tears that reminds me of the Disney Pixar Toy Story franchise. I am a huge fan of Tom Hanks, so as you would expect Woody is my man. When Aramis was a baby I bought him a Woody doll and Bullseye from the Disney store. Happy to report that 12 years later, they are still being loved on. We've since expanded our collection to add the beloved Buzz Lightyear, Mr. Potato head and Rex. I anticipate Slinky and Zurg will be joining us before years end too. You could say we are fans. I was so happy to see the film and am now sharing my thoughts and review with a great giveaway further down thanks to Zak Designs. Oh I should add I paid my own way to the movie, so this is not sponsored- these are my own opinions.
My Thoughts on Toy Story 4
As a fan of the Toy Story franchise, I can say that I prepared myself for the end. I knew that being a fan that I could cry at any moment, because of what the franchise means to me and my boys. I'm happy to report that I only cried at the end. As the film ended I felt guilty for storing the boy's old toys, I wanted to get home and hug all of their stuffed animals and find Woody and Bullseye. We've had them the longest. But after thinking about it, I realized that the film's hidden (or maybe not so hidden) message of saying that the toys are going to be ok. Time goes by and things change but everything is going to be ok.

THE TOY BOX
The toys are back with a few new faces and the adventure is just as good. The return of Bo Peep (Annie Potts) was huge and she's absolutely fantastic in the film. A heroine that is capable and super brave. Woody, Buzz, Jesse, Rex, Slinky and the gang are back for another awesome adventure. Bonnie is a great human and I love how she loves the toys still.
INTRODUCING FORKY
The one standout toy of the film was Forky. I'm sure you've seen the little spork in the trailers and wondered how he would be integrated into the film. Forky has a super cute story and as you can imagine the plot kinda falls around him. It could be an important lesson for parents to talk to their children about- not all toys have to be purchased or expensive. You can love and enjoy the simplest of toys.
WHAT I LIKED
Loved the new toys, the return of Bo, the animation as can be expected was bright and vibrant. Sadly I missed the beginning of the film, but be ready for a "You've got a friend in me" montage that had I been sitting there would have had me in tears. The story was a bit assumed, but I liked the added plots in the story. You really get to know the new characters and that's always nice. You leave feeling like you've got a few more friends in your toy box. The RV (recreational vehicle) trip was perfect for summer as many families will be hitting the road in RV's this summer. We've never traveled in an RV, but my kids were eager to tell the hubs about the RV and how they want to travel in an RV one day. I think it'd be a blast! I loved Buzz's inter voice scenes. Pixar did an amazing job adding those positive messages that kids are sure to pick up.
MY ISSUES WITH TOY STORY 4
I was sad that not all of the toys had as many speaking parts. There is a big contingency of toys that go on the road trip but not everyone and that's to be expected of course. As you can imagine the story focuses on the new toys like Forky, Gabby-Gabby, Giggles McDimples, Duck-Bun and of course Duke Caboom (Keanu Reeves). The rest of the toy box kind of play a backup part in the film. It was sad to me, but it was still done well and who am I kidding, I loved the new additions. So did I really have issues? Not really- just missed some of the toys.
OKAY FOR KIDS?
Absolutely! This animated Disney Pixar film is for kids. But was it scary? There were scenes with the dolls that could frighten a younger child (see pic below). If your child is ready to sit in a theater, this would be the best film to take him/her to. We have raised to boys at the movies practically so this was a no-brainer for us. They both (ages 7 and 12) LOVE the Toy Story franchise and had been watching 1,2, and 3 in preparation for the past couple of weeks. I would recommend for a child that will sit through an animated film, as always skip the previews and sit down right at the start of the film to help him/her last a little longer.
END CREDIT EXTRAS
Disney never disappoints when it comes to end credit extras. Note that it's not a Marvel film so there's no sneak peek to the next. This is supposed to be the end, so there was just cute end bits with our favorite toys. I'll save those spoilers for the coming to DVD post.
Now for the GIVEAWAY!
My thanks to ZAK! Designs for sending us the Disney Pixar Toy Story 4 3 piece dining set and Rescue Squad flip-top water bottle. It's perfect for our Toy Story fans. The perfect place setting for the Toy Story fan in your home. When our boys were little we loved having these cute plates and water bottles for them to enjoy.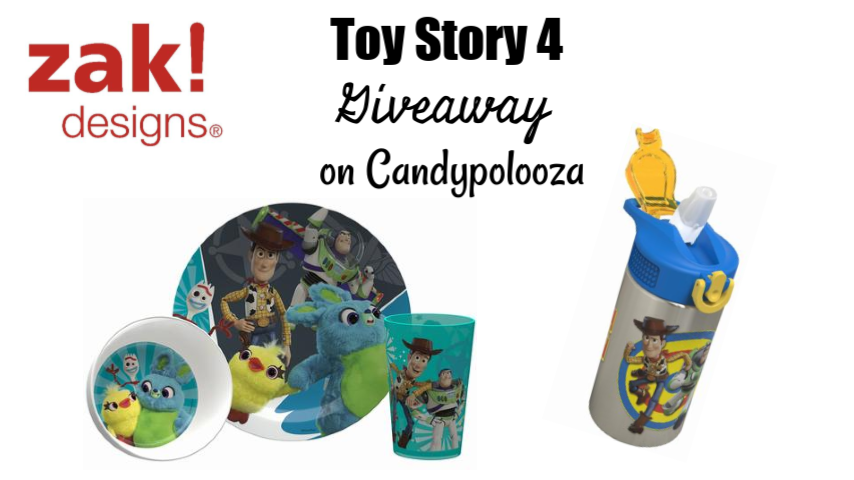 HOW TO ENTER THE GIVEAWAY
Leave a comment below telling me if you've seen Toy Story 4 already. Who is your favorite toy and which Toy Story is your favorite!
Share the giveaway from the Candypolooza Facebook page. Add the public link in the comments below for an additional entry.
Leave a comment on another blog post and come back here to tell me which post you commented on.
Follow me @Candypolooza on Instagram – Leave your Instagram handle in the comments below.
Follow @CoolChillMom on Instagram – Leave your Instagram handle in the comments below.
*You can come back and leave a comment daily*
GIVEAWAY DETAILS:
Giveaway starts: Friday, June 28th, 2019
Giveaway ends: Sunday, July 12th at 11:59pm EST
Amount of Winners: 2
Prize 1: One (1) winner will win: Zak Toy Story 4 3-piece plastic plate, bowl & cup gift set valued at $9.99
Prize 2: One (1) winner will win Zak Toy Story 4 15 oz. stainless steel bottle valued at $13.99
How to Enter: You can enter the giveaway daily by following the How to Enter Giveaway rules above.
Prize fulfillment: Winner's will have 24 hours to respond to email and prizes will be shipped within 6-8 weeks of prize notification. Please make sure to check spam mail or include info at candypo.com in your contacts to avoid missing the winning email.
ABOUT Zak's Designs Products
Among the complete assortment of products in the line is Zak's classic 3pc. mealtime set that includes a durable plate, bowl, and tumbler. The line will also include a divided plate, flatware set and a 15oz tumbler.
When it comes time to take the fun of Toy Storyon the go, Zak is providing kids with a 15oz stainless steel water bottle with double-wall vacuum insulation that feature a push button flip-up drinking spout, a locking lid, and a built-in carrying loop to make it easy to clip on to backpacks or sports bags. From home to school and everywhere in between, kids can make sure the fun of Toy Story 4 continues to come alive at every meal!