"It was a dark and story night.." ok so it was really "rainy night" but that wasn't going to keep us from having a magical evening at the A Wrinkle in Time premiere! First off let me thank Disney for making this possible and sending me on yet another adventure to Los Angeles, the opinions shared in this post and all related to the #WrinkleInTimeEvent are my own opinion. Yes, friends it was truly magical. Be ready this post is super picture heavy.
Let me start by going over my red carpet look for the evening! I purchased my dress from eShakti. If you recall I've done a couple reviews from eShakti on the site before, look here and here. One thing I love about eShakti is that they adjust the garment for your height! Yeah, pretty awesome when you are 5'0! I ordered the One shoulder cotton knit and Dupioni print midi dress, I paid $69 for it. I knew I didn't want to wear heels so I wore some platform Tom sandal's I already owned. Comfortable and stylish. I shared my necklace bling with everyone on Instagram. Did you see it? Here it is if you missed it! I paid $14.99 for it. My red carpet look was under $100. My friend, Amy from AsTheBunnyHops lent me a little bag and oh my lashes were from Amazon. And my friend Amanda from Guide4Moms added a stylish side braid for my hairdo and my look was complete.
 Click on the images to purchase!
Here's me in all gussied up!
I honestly think that I am most happy with this picture than any of my other red carpet walks. Eshakti for the win! Now on to the carpet!
If you follow me on Facebook you got a quick glimpse of the very busy red carpet. Ok, so while I thought I was posting on Candypolooza, I actually posted on my personal page. I've opened up the video to be public so everyone can see. It was very quick because, like every red carpet they were moving us along as much as they could and the stars were being interviewed so it was wild and super loud.
Here's a couple pics I took and a very pleasant surprise to see Mister Derick McCabe, who plays Charles Wallace in Wrinkle in Time. He was such a joy to speak with and as you can see such a cutie! He told us during the interview that Reese Witherspoon hugged him on a daily basis- I wanted to just hug him too! LOL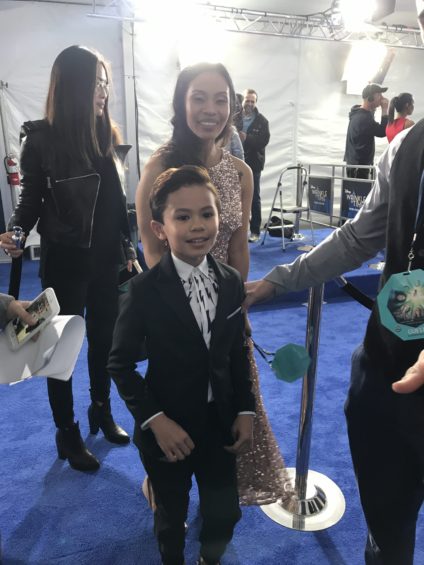 As you might have realized this red carpet was on Hollywood Blvd for the movie premiere at the El Capitan theater. The Dolby Theater is right there across the way, who knows what's happening this weekend? The Academy Awards is on Sunday and they've already begun setting up the carpet etc for Sunday. This carpet was a little longer than most so we walked thru the street some until we made it to El Cap. Here's a fun pic of me and Amy making our way to El Cap. We were SO EXCITED!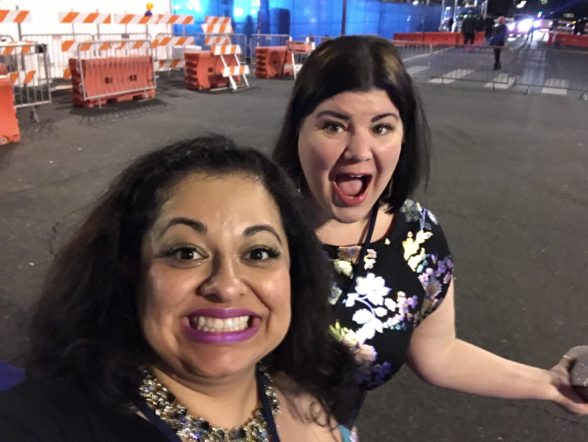 Off we strutted to El Cap where we had to put our phones away and find out seats for the film. Insider info- we heard Beyonce, Jay-Z and Blue Ivy were in attendance- I'm going to just announce that I watched a movie with Bey. It happened.. 😉 LOL
We got our popcorn, found our seats, enjoyed the pre-movie music and entertainment and then Ava DuVernay came on the stage and beautifully announced the cast to the audience. It was magical you guys!
Now for the After Party 
The who's who was in the house and it was fantastic! Check out the scene! It was beautiful!
Ok here come all of my celebrity selfies! 
From a far I watched Oprah chat and hug with almost everyone. I didn't want to be one more person in the fight so I just took in the moment that she had squeezed my hand just the day before and that I sat right not five feet from her during our interview.
And a few more I'll share on social! Make sure you keep an eye out!! 
Make sure to grab your tickets for the March 9th premiere of Wrinkle in Time! 
Question:
What celebrity would you like to meet in real life?
Cheers!
Candy
SaveSave
SaveSaveSaveSave
SaveSave
SaveSave
SaveSave