Disclosure: This post has been sponsored by Pfizer Consumer Healthcare. All thoughts and reviews are my own.
It's the first day of Spring! The weather is changing, the days are longer and the sun is out! But you know what's still hanging around? The crud.. With the weather as crazy as it's been here in our area, the boys are in and out of coughs and sneezes. Sniff sniff cough.. will it ever end?! Yes it sure will! Thanks to Children's Dimetapp® Cold & Allergy, my boy is covered.
It never fails, I should be prepared each morning but it's always a "surprise." We are on the way to school and I hear it. "Achoo!" Snot literally goes everywhere! And guess what mom doesn't have? You guessed it tissues! I grew up with seasonal allergies and I've noticed that depending on where we live the allergies are a little better/ a little worse. Here in Georgia they have been mild but none the less using Children's Dimetapp® Cold & Allergy is beneficial.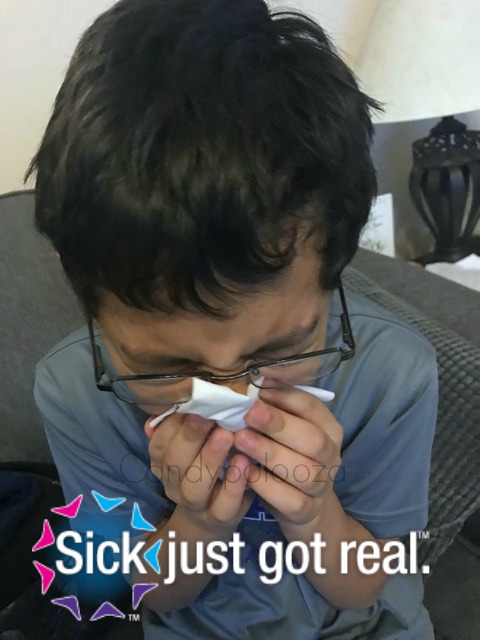 There's nothing worse than having the sniffles and not being completely sick, if you know what I mean. I remember when Aramis was little he would ask me, "mama I feel good, but why am I still sneezing?" Poor guy, now as a tween he's learning to recognize the signs of allergies early. He's still not too good at taking pills so we reach for our trusty liquid formula Children's Dimetapp® Cold & Allergy. If you don't have a bottle in your medicine cabinet, I highly recommend it.
In a great tasting grape flavor, Children's Dimetapp® Cold & Allergy has congestion-fighting power to relieve stuffy and runny noses, while providing relief for itchy and watery eyes, for children ages 6 and up.
*It is important to remember to always read and keep the cartons for complete warnings and dosing information on Pfizer Pediatric products and to use as directed.
Make sure to visit the Sick just got real.™ website and Like the Sick just got real.™ Facebook page too! Always great information there and you'll see info when you are scrolling thru Facebook! Win-Win!

Now here's your chance to win!
One reader will win a $25 Visa gift card and a Children's Dimetapp® Cold & Allergy of their own to help the sniff, sniff, cough, at your house!