You know the song, "Come fly with me, lets fly, lets fly away." Today I'm asking you to "Prime" with me! LOL Amazon Prime that is! We have been customers of Amazon since 2005. Wow, I actually just looked it up and saw that. I did not know we have been with Amazon so long! It's been a wonderful relationship too, we are Prime members and very much enjoy the 2 day shipping. In larger cities you have access to even more, but I'm content with 2 day shipping. It's a huge help depending on where you live/ or are stationed. I'm proud to say, I am an Amazon lover. Keep reading til the end, I've got a fun giveaway that I'm sponsoring for you, my fantastic readers! By the way, this is not a sponsored post. I am sharing my love of Amazon and providing the giveaway out of my own pocket. 
AMAZING AMAZON PRODUCTS
Unless you've been offline for the past couple of years, you know Amazon has produced some amazing products to make our lives easier. Each of the images are clickable and they will take you to the Amazon web page. So you are aware the links are my affiliate links so I will make a very small percentage should you choose to purchase anything. Thanks in advance! Back to the amazing Amazon products that will make great gifts for the holidays or anytime!
FIRE HD 8
Back in April I met with Amazon during Hispanicize in Miami. I received this Fire HD 8 and cool battery pack. While you know I have an Echo Show, I also enjoy streaming videos on my new Fire HD 8. I met with Amazon again in October and learned even more about some new products that are available! Keep reading to learn about them.
and don't forget about the Kids Fire tablet! Here's more info on the benefits of the kids version for your children! 
Amazon announced a new Spanish language experience within Amazon FreeTime and FreeTime Unlimited. FreeTime Unlimited now offers kids access to over 1,000 premium, age-appropriate books, videos, educational apps, games, and coming soon, Audible books—all in Spanish and at no additional cost to the subscription. Plus, kids now also have access to thousands of kid-friendly and hand-curated websites and webvideos in FreeTime.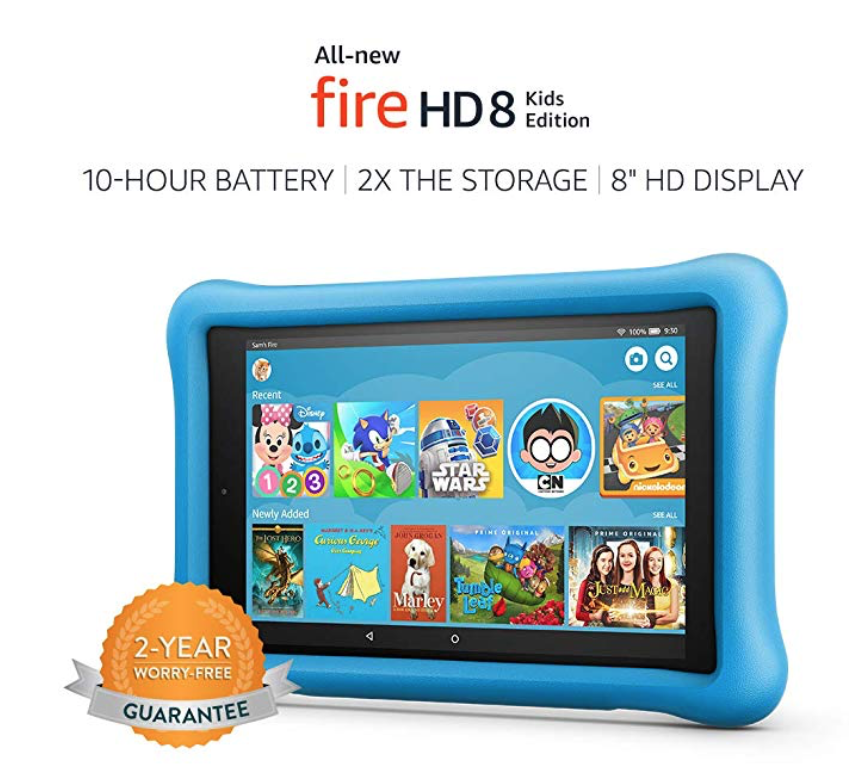 Photo Credit Amazon
Whether already fluent in Spanish or still learning, kids of all ages can now enjoy Spanish language favorite books and videos like Sesamo, La vuelta al mundo en 80 días, El código del dragon, Miss Alegría, and Invasión del mundo principal: Una aventura Minecraft, plus translated versions of popular books, videos, apps, and games like Harry Potter, LEGO Ninjago, Teen Titans – Teen Titans Go!, and Where's My Water? from brands like Pottermore, LEGO, Disney, Cartoon Network and more. All of the content is kid-friendly, age-appropriate, and hand-selected by the Amazon FreeTime team with new titles added regularly.
All the ways for your child to become bilingual! And parental monitors too!
ECHO SHOW
I've shown pictures of my Echo Show since I gifted it to myself last year. Attention Military families! Last Christmas we pcs'd to Fort Polk from Fort Gordon. The hubs, being the proactive soldier that he is decided to get our house packed up super early. Well our tv got packed up as well and we used my Echo Show as a way to keep us entertained. Tablets are great, but if you'd rather have something that can sit on the shelf like a tv, the Echo Show is the way to go! The Echo Show was upgraded this year too. Check out the new 2nd generation below:
One of the things that I asked the Amazon team was when would Hulu and Netflix be available on the Echo Show. Yes, I honestly have my Show sitting on my desk and when I hit moments of "let's change it up" I ask Alexa to show me my Prime Video options. If I could watch Netflix and Hulu, I'd probably never go to the living room to watch tv anymore! LOL One of the cool features is that I can make phone calls from my Show! YES!! And if any of your friends of family have an Amazon device that you can call from, you can ask Alexa to "Call my dad" or whomever. Don't tell my dad, but I got them an Echo Spot for Christmas. So I'll be video chatting with them in the new year! This is perfect for military families that are apart! I'll be looking to get my sisters one as well so we can all video chat! Check out the Echo Spot by clicking on the image below.
KIDS ECHO DOT
My niece Makenzie is a bright girl. She's always asking questions and wanting to learn about new things so the Kids Echo Dot was the perfect gift for her! I'm super pumped for her to start using it and can't wait to hear what she thinks of Alexa! The Kids Dot has a lot of really cool apps and add ons available.
The easiest way to get started with Amazon FreeTime on Alexa is with the all-new Echo Dot Kids Edition— just $79.99—which includes one year of FreeTime Unlimited family plan, a kid-friendly case, and a 2-year worry-free guarantee—if anything happens, return it and we'll replace it for free, no questions asked
Since Alexa is built in the cloud, she'll get smarter every day with new kid and parent-friendly features, skills, Audible books, music, Q&A, and more.
Amazon FreeTime on Alexa includes a new set of parental controls and family-focused features such as explicit song filtering, bedtime limits, educational Q&A, household communications, positive reinforcement for using the word "please," disabled voice purchasing, and more—for free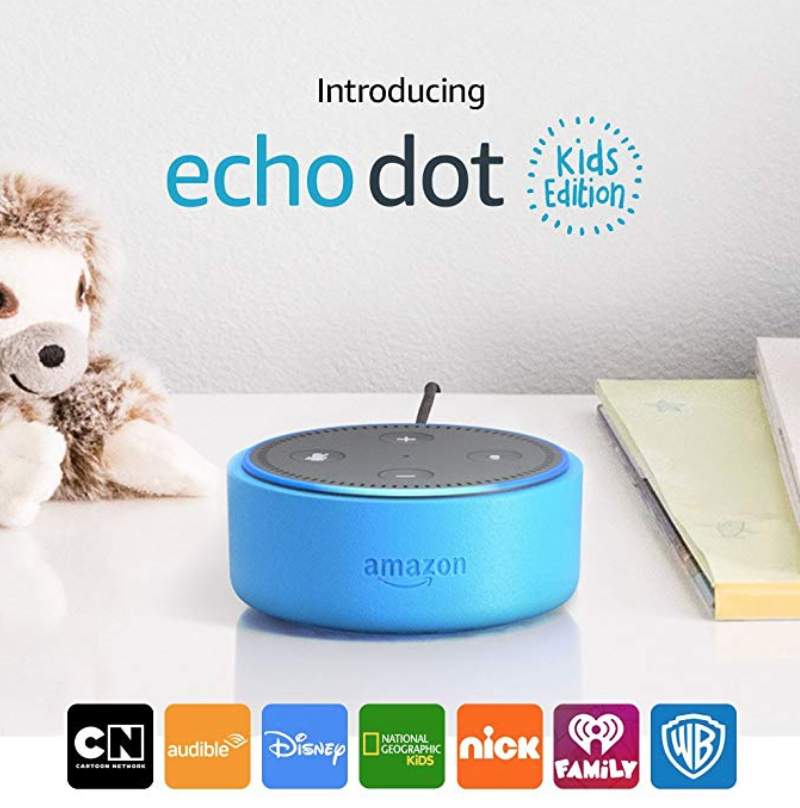 Amazon FreeTime Unlimited on Alexa is an all-new content subscription service just for Echo devices—includes access to over 300 Audible kids' books; kid-friendly, ad-free radio stations and playlists; character alarms; premium Alexa skills from Disney, Nickelodeon, National Geographic, and more—starting at just $2.99 per month for Prime members, and no additional cost for existing FreeTime Unlimited members
Lots of really cool ways to integrate technology into your children's life all while you as the parent can monitor! Win-Win!
FOR YOUR STUDENT
If you didn't know, I'm actually going to college right now. Yep, I have almost no time for anything. I'm finishing up my Associates of Arts in Communication (baby stepping it my friends) and if you didn't know Amazon gives a discount on their Prime services for college students! If you haven't set up your Prime account, do so by clicking HERE and if you are a student make sure to note that so you can enjoy all the benefits of being a Prime member at a discounted rate. Amazon totally understands that you're on a budget!
NOW FOR THE GIVEAWAY! 
One winner will win the All-New Fire HD 8 Tablet! Yes!!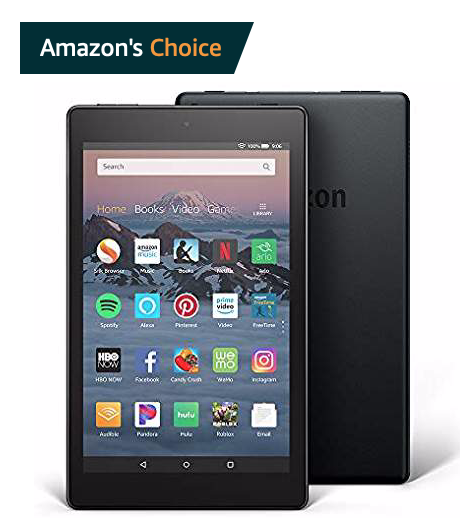 GIVEAWAY INFORMATION:
Giveaway starts: Friday, December 21st 1pm EST
Giveaway ends: Friday, January 11th 11:59 pm ET
Giveaway open to: US residents 18+ void where prohibited. No purchase necessary. APO AE also eligible to enter!
HERE'S HOW TO ENTER:
Leave a comment telling me in a *full sentence* if you are an Amazon Prime Member. And tell me a time when Amazon Prime shipping helped you out.  If you aren't a Prime member, tell me why not.
(One or two word answers will be deleted)
Leave a comment on another blog post then come back to this post and tell me which article you commented on
Follow me on Twitter @candypo . Please let me know so down below and leave your Twitter handle as proof.
Follow me on Instagram @Candypolooza. Please let me know so down below and leave your Instagram handle as proof.
Retweet the tweet below. You can retweet daily so it's another way of gaining an additonal entry!
Share the giveaway on Facebook. Make sure it's set to public and come leave the link in the comments.
*I will be checking each entry*
GOOD LUCK EVERYONE!
CANDY